Are you fans of the 'Kuch Kuch Hota Hai' song? Yes, it is a popular song!. However, we are not going to talk about it. We are going to have gambling topic in India.
Gambling in India varies by region because Indian states are free to create their own gambling laws. Casinos are legal in some states, such as Goa. Except for certain categories of gambling, such as lotteries and horse racing, common gambling activities such as organized betting are prohibited.
In India, more people have begun to place cash bets on illegal betting and gambling activities in the twenty-first century. Gambling opponents claim that it encourages crime, corruption, and money laundering.
Proponents of regulated gambling, on the other hand, argue that it can be a significant source of revenue for the state. In 2013, Goa's casinos contributed Rs. 135 crores to the state's revenue. Goa, Daman, and Sikkim now have casinos.
The History India Gambling
Gambling has a much longer history in India than is widely thought. It is mentioned in the Ramayana, which some Indians believe dates back to the 7300s BC, despite the fact that it was first mentioned in 430 BC. Both gambling boards, which some believe to be chess, and dice gambling are described in the Ramayana.
Whereas all other references refer to it as devana, board gambling is referred to as Aksa. If you've ever overheard a gambler say, "I lost my shirt," it's because this test compares trees stripped of their fruit as a result of Hanuman's shaking to defeated gamblers stripped of their clothes and ornaments.
Whereas the attitude toward gambling in the Ramayana is completely different; it is mentioned casually and is neither condoned, taboo, nor forbidden, the tune in India's second most famous Sanskrit epic is drastically different.
In addition, the Mahabharata is where the true negatives emerge. This epic is thought to have been written around 3200 BC, though some historians believe it could have been written as late as 120 BC or as early as 800 BC.
Shakuni set up a dice game against Yudhishthira and cheated him out of his wealth and kingdom in this story. He gambled his brothers, himself, and finally his wife into servitude after losing all of his wealth and kingdom.
Another dice game was ordered later in a dispute where Duryodhana insisted there was no room for two crown princesses. Pandavas had to go into exile for 12 years and then remain hidden due to their bad luck. As a result, it's possible that problem gambling was invented in India as well.
The Legality Gambling in India
Gambling is a state subject, and only Indian states have the authority to enact laws governing gambling activities within their borders. The Public Gambling Act of 1867 is a federal statute that prohibits the operation or management of a public gambling establishment.
A fine of $200 or up to three months in prison is the penalty for breaking this law. Additionally, this Act makes it illegal to enter gambling establishments. The penalty is a fine of $100 or up to one month in prison.
Because the Information Technology Act of 2000, which governs cyber activities in India, does not include the words "gambling" or "betting," the act has been left open to interpretation by the courts, which have refused to look into the matter. Furthermore, the "Bombay Wager Act" makes online gambling a criminal offense in Maharashtra.
Goa, Daman, and Sikkim are the only three states that allow casinos. In Sikkim, there are two casinos, Casino Sikkim and Casino Mahjong, and ten in Goa, six of which are land-based and four of which are floating casinos on the Mandovi River.
Casino Deltin Royale, Casino Deltin JAQK, Casino Pride, and Casino Pride 2 are the floating casinos in Goa. The Deltin Group is in charge of the first two, while the Pride Group is in charge of the last two.
Casinos can only be set up in five-star hotels or offshore vessels with the government's permission, according to the Goa, Daman, and Diu Public Gambling Act of 1976.
As a result, the Deltin Group decided to open Daman's first land-based casino, which is now open. According to news reports, Visakhapatnam is also being considered as a potential casino destination.
Read Also: Gambling Age in India
Popular Games in Gambling India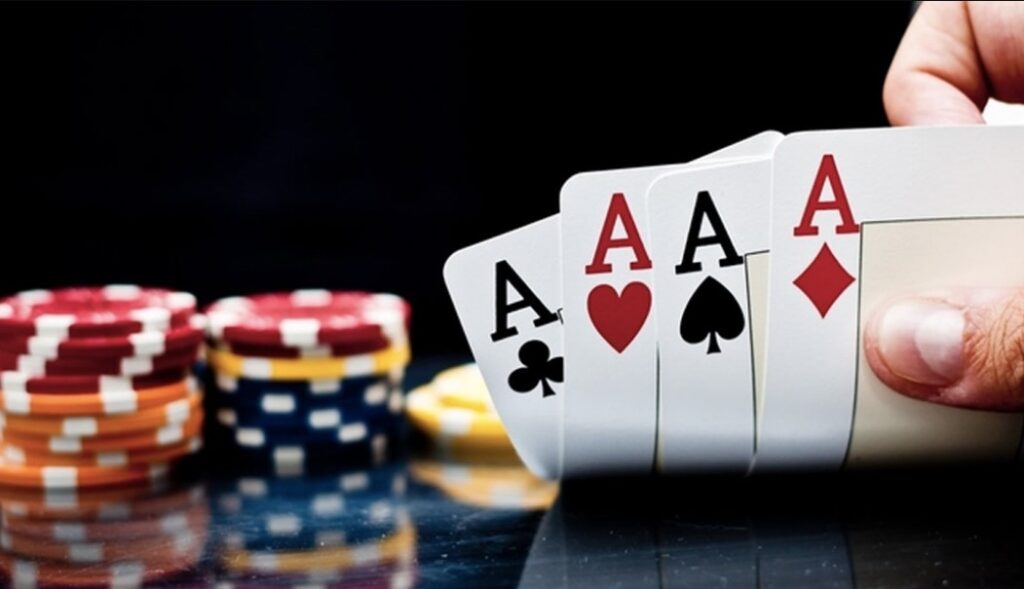 Are you curious about what are popular games for gambling in India? Yes, we have compiled it for you. You can find these games wherever you want to visit a casino in that country.
1. Texas Hold'em Poker
Texas hold'em is kind of popular around the world. Players are fond of exploring the game in different categories like live casinos.
In this game, each player is given two cards, only for their eyes and the dealer spreads five cards. the dealer divides the cards in this way – three at a time, then another, then one. players use this system and make their best five-cards.
Before and after each card opens, players go to bet. If they want to stay in the game and see the next card, all the players have to put the same amount of chips in a pot.
2. Roulette
Roulette is a casino game named after the french word which means small wheel which was probably developed from italian game birbi. in the game, players can opt to bet on either a number, different groups of numbers, color red or black, whether the number is odd or even, or if the numbers are high (19–36) or less (1-18).
To determine the winning number, a croupier rotates the wheel in one direction, then rotates a ball in the opposite direction of the circular track tilted around the outer edge of the wheel.
3. Indian Flush (Teen Patti)
Teen Patti is an interesting and captivating leaf game. Hindi films show how to play teen patti games in a very impressive way. Perhaps because of that, there are a large number of three leaf enthusiasts in india.
The players of this game are found in all corners of India, hardly anyone who is fond of cards who does not know how to play three leaves.
All casinos in India are seen hosting three leaf games and now a lot of online gaming sites also teach how to play teen leaf and how to play teen leaf games through animation and graphics. The online gaming site has changed the way teen leaf is played.
India Online Gambling
In India, online gambling is still in its early stages, but Sikkim plans to issue three online gambling licenses in 2010. Despite the fact that India is the most popular destination for online gambling, this failed.
Sikkim also permits the operation of an online lottery that accepts wagers from players all over India. Other states were expected to follow Sikkim's lead, resulting in India's first major online gambling market, known as Satta Matka.
For gambling in India, Casinos are prohibited from promoting or operating websites that promote online gambling games such as casinos, sports betting, or bingo, it is not illegal for non-Indian casino companies (so-called offshore companies) to operate websites that cater to Indian players.
From a legal standpoint, the only requirement is that offshore casinos accept Indian Rupees as a payment method for Indian players.
Since January 2020, the states of Telangana and Andhra Pradesh have banned all online gambling for Indians, so this is no longer true. Anyone who violates the new law could face a year in prison or a fine.
Casinos in India Review
Gambling is legal in Goa, one of India's few gambling-friendly states. Casinos can be found on boats anchored in the Mandovi River and in upmarket hotels on land in Goa. 
The floating casinos, which are entertainment destinations in and of themselves, host the majority of the action with live tables. Onshore casinos are only allowed to have electronic games by law.
1. Chances Casino and Resort
Chances Casino and Resort is a 53-room boutique hotel in the scenic Vainguinim Valley, not too far from Panjim. The casino's claim to fame is that it is Goa's oldest onshore casino, with traditional coin slot machines still in use.
Because of its quieter location in south Goa, this casino does not receive as much attention as the other casinos. It is, however, well-known among regular gamblers and residents. Gamblers are treated to a free buffet dinner.
Every Tuesday, Friday, and Saturday, there is also live music. There are packages available that include both a stay and a game.
2. Casino Carnival
A decent onshore casino is Casino Carnival, which is located at the recently renovated Marriott Resort and Spa in Panjim. It began in 2001 and is now housed in a large dedicated room within the hotel. There are slot machines as well as electronic Baccarat, American Roulette, and Blackjack gaming tables.
To enter this Casino, you should wear smart casual clothing. It is a required clothing for Casino Carnival. In conclusion, gambling in India is a legal activity as its country has so many casinos to bet on. Congratulations to tourists or locals who want to have fun playing Poker, Blackjack, Roulette, and so on. You can play them safely.